Tommy Lee has explained why he shared an x-rated snap of his privates on Instagram.
The Mötley Crüe drummer, 59, sparked shock and outrage earlier this month when he randomly posted a full frontal photo of his genitalia to social media.
Now, the rocker has revealed that the reason for the unprompted snap was nothing more than a "motherf***ing bender".
During a performance in San Antonio, Texas, on Monday (August 22) Lee chatted to the audience about his headline-making Instagram post.

Per MailOnline, he explained: "A couple weeks ago, we had like a two-week break off the tour and I went on a motherf***ing bender, bro. A bender!"
He continued from the stage: "I got f***ing sideways as f*** and got naked and posted pictures of my d***."
Lee went on to encourage male audience members to join him in exposing themselves, saying: "Usually, I mean I'm a t***y man, so I like to see t***ies. But tonight, tonight it's equal opportunity night! Tonight I want to see everyone's d***! Come on boys, pull your s*** out!"

It reportedly looked like one man might take Lee up on the offer – but he quickly backed down. Pointing at the man, Lee shouted: "My man in the pink shirt, he's got a pink shirt on, he's ready to pull his d*** out! Show the whole world that motherf***ing hot dog! The wife says no!? Divorce!"
On August 11, Lee gave his 1.4 million followers an unexpected surprise by posting a picture of his manhood captioned: "Ooooopppsss."
The image remained on Lee's Instagram page for more than four hours despite the platform's "No Nudity" policy, prompting many outraged social media users to accuse them of double standards.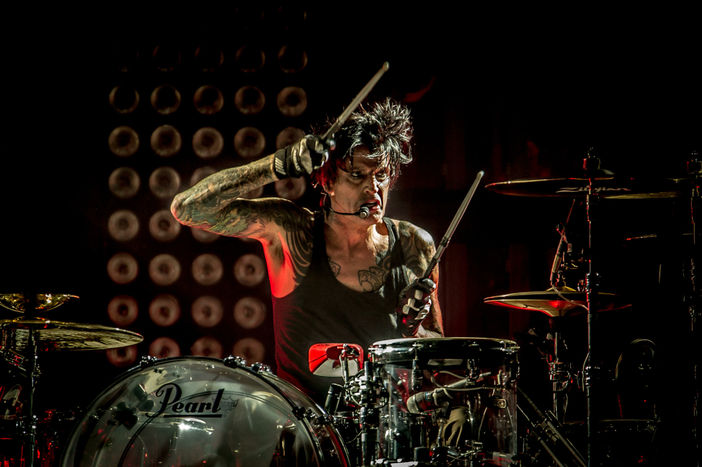 Credit: ZUMA Press, Inc / Alamy
They claimed that Instagram was not so lenient with nudity posted by female or LGBTQ users.
Per their community guidelines, Instagram does not permit: "Photos, videos, and some digitally-created content that show sexual intercourse, genitals, and close-ups of fully-nude buttocks."
The guidelines explain this also includes: "Some photos of female nipples, but photos in the context of breastfeeding, birth giving and after-birth moments, health-related situations (for example, post-mastectomy, breast cancer awareness or gender confirmation surgery) or an act of protest are allowed."