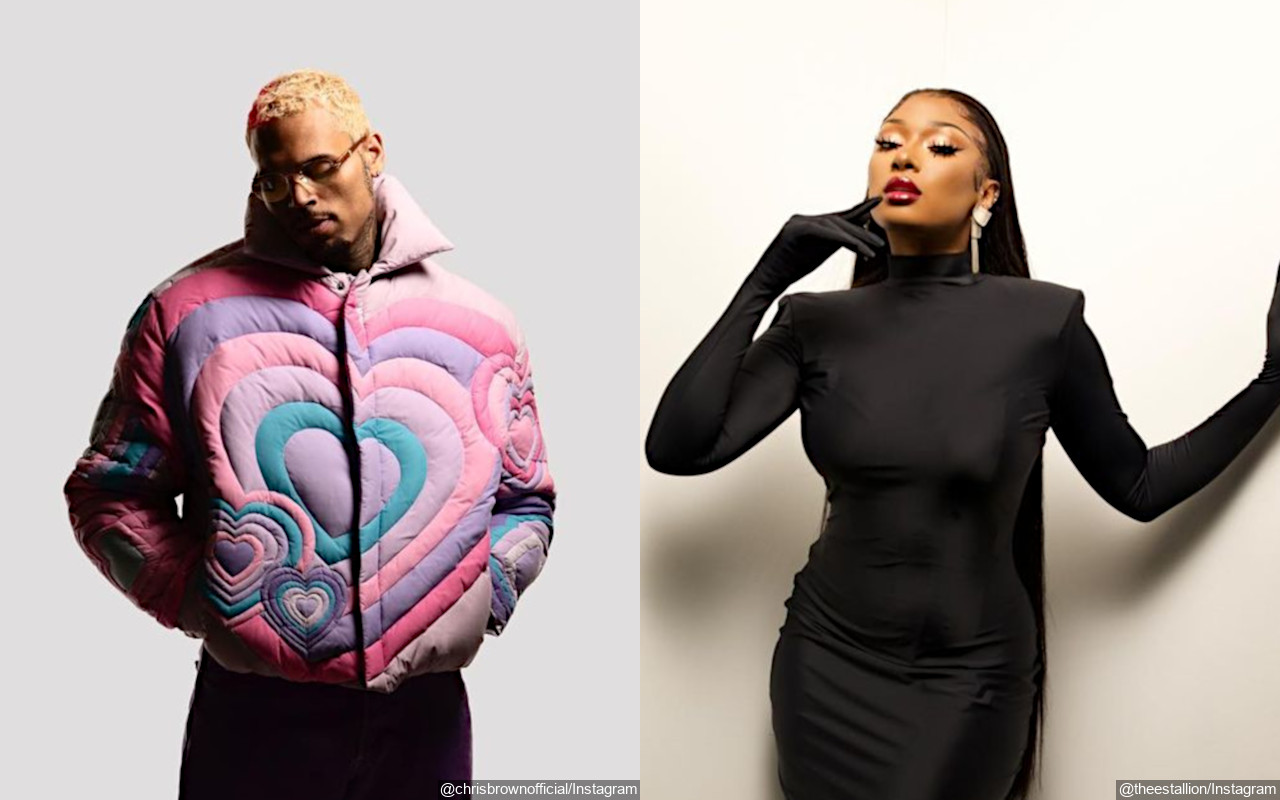 and
The 'Go Crazy' Hitmaker Shares His Reaction On Social Media After His Personal And Intimate Session With His Fans Inspires The 'Savage' Raptress To Connect With The Hotties.
AceShowbiz – Chris Brown is proud to be a good influencer. The "Go Crazy" hitmaker says that he is "happy" after his personal meet and greet inspires Megan Thee Stallion and other artists to connect with fans.
Taking to his Instagram Story on Thursday, August 18, the "Under The Influence" crooner wrote, "IM HAPPY THAT MY MEET AND GREETS ARE STARTING TO INSPIRE ARTIST TO ACTAULLY [sic] GIVE A F**K ABOUT THEIR FANS." He continued, "I didn't invent the wheel or meet and greets but I damn sure set the tone," before concluding his post as writing, "[red heart emoji] TEAM BREEZY."
Chris' reaction arrived just days after Megan was spotted getting close with her fans, the Hotties, at Rockefeller Center in New York City. Over the weekend, the "Savage" raptress treated her supporters to a full sweet experience with an up close and personal meet and greet. According to the reports, the 27-year-old hip-hop star's fans "got the opportunity to meet her so long as they purchased a physical copy of her album ['Traumazine']."
In videos and photos uploaded by her fans, Megan could be seen excitedly interacting with them. One of the clips saw the "Sweetest Pie" spitter twerking while a female fan slapped her butt at one point. The rap star was also photographed hugging and posing seductively with the Hotties.
As for Chris, he made headlines after he held an expensive meet and greet, which reportedly cost $1,000, during which he posed up close with his fans, even touching his female fan's derriere as she hugged him.
Prompting some people wondering if he had taken things too far, Chris, who recently released his new album "Breezy", addressed the controversy. "PSA!!! When artists (everyone) do concerts, they all have something called a VIP package. I haven't done meet and greets in over 7 years…," he wrote via Instagram Story. "I have the coolest fans on the planet. I appreciate the f**k outta them. These are memories that will last with them forever."
"Unlike most of these lame-a** artists that won't even make eye contact with the people who made it possible to even have a career," the 33-year-old "No Guidance" crooner further ranted. "I only exist because these fans saw something in me I never thought was possible… So Ima go all out for my fans!!!"
spread it with your friends and family on social media as much as you can !!!!
Also thanks for reading this article ….